Those who spot the difference choose Quality Bengal Kittens
Updated June 2022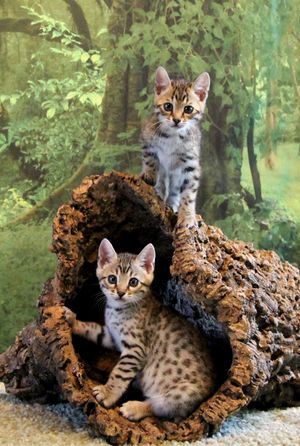 Bengal cats brought our lives together; they will remain in our lives until we leave this earth.  

Consistent quality draws people to our cattery.  We specialize in retaining wild essence - the look of tree-dwelling small wildcats - combined with confident, intelligent, outgoing personalities resulting from selective breeding and intensive socialization from being raised underfoot in our home with our family - including dogs. Our breeding cats are tested for PK Deficiency, PRA-b, and HCM.  Heart testing since 2004 has resulted in multiple generations of cats whose hearts are disease-free.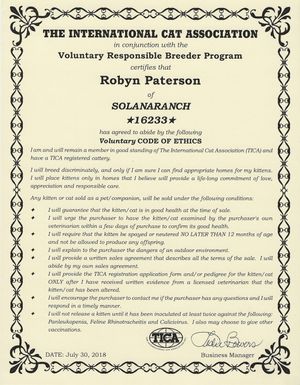 We show in both TICA and CFA. We participate as voting members of CFA Bengal Breed Council. Robyn was elected by Bengal breeders worldwide to represent them on the TICA Bengal Breed Committee, and Jon serves as the Health Liaison between The International Bengal Cat Society and the veterinary world. You will not find two people more dedicated to the health, welfare, and betterment of the Bengal breed.   
Please read  Purchasing a Bengal for more information about how the Waitlist works.  It also explains the payments and our one price - $2200 - method. Anytime you send us money, you receive a digital, legally binding contract to assure you we are not a scam.

While we do not ship our kittens, people fly to us to pick up their Bengal kittens.  Look around; our Bengal cats are different.  We are different.  We encourage you to look elsewhere.  We challenge you to find wilder-looking SBT Bengals and more thoughtful, experienced Bengal cat breeders in any other program - worldwide.  People who spot the difference choose us.
Solana Ranch Luau - Little Lu

Do you need a daily reminder to live life like Little Lu?  Little Lu has a great outlook on life, and sometimes we need to live with a good role model, so we remember the important stuff.  Life should be full of play, food, and sleep - at least that is Little Lu's philosophy.

Little Lu plays, plays, plays, plays some more, and she plays rough.  She would be a fantastic partner to the male Bengal you already have at home who drives everyone nuts with requests to play.  Little Lu may be a little too much for a female cat - unless you have one that lives life like Little Lu.  Little Lu is very friendly with people, but she doesn't accept change well.  It will likely take her a couple of weeks to adjust to a new home before her real personality surfaces. 

Little Lu turns nine years old in July, but she thinks she is a kitten, and she behaves like a kitten. Her health is excellent.  She has lived her entire life on a balanced raw diet, so she shows no signs of her health degenerating.  Most health problems that cats experience at her age are caused by processed, dry diets. Her heart has been scanned by a cardiologist multiple times, and she showed no signs of heart disease in any of her scans. She was most recently tested in 2020. If heart disease were going to develop, it should have shown up by now. 

Little Lu's adoption fee is $300.  If you are interested in her, please complete our application and write in the comments at the end that you are interested in Little Lu. 
Join our Waitlist now to bring home a kitten from September to December.
Please complete a Kitten Application to join us.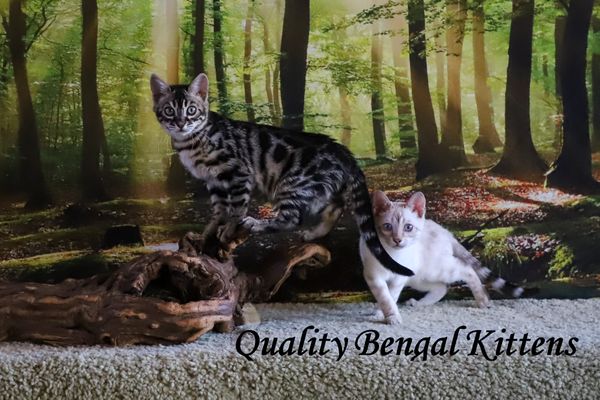 More people are working from home and more and more people have discovered the health and personality benefits of buying a pedigreed pet. This has increased the demand for pets all across the globe. Unfortunately, this has also increased internet scams for pets, which account for 25% of all internet scams. If you search for a kitten that is available now rather than wait for one of our, please read our article on what makes a responsible Bengal breeder. 

We are currently predicting that those who go on our waitlist now will bring home a kitten by July if you are flexible with what you want.  Our Bengal kitten Waitlist is public, in order to provide full transparency.
Not all breeders are equal in the way they treat their cats or their customers.  If you seek a pedigree pet, you must do your research to determine that you are buying from a legitimate breeder who wants the best for their cats. Our website, our involvement with the breed, our history of health testing, and our customer service are evidence of our authenticity.  If you wish to get a kitten, we recommend that you look through our website and use what we offer as a standard upon which to measure other breeders to avoid a scam. 
Due to cats' natural breeding cycle, our largest groupings of kittens go to their new homes in June and November. That does not mean we don't send kittens home in other months.  It means those are the two months in which the largest number of Bengal kittens go to their new homes. 
Below is an assortment of kittens we have bred in the past.  You can see all of the kittens we have produced since 2015 on our Facebook page by looking through the photo albums.  You do not need a Facebook account to access the Facebook page.