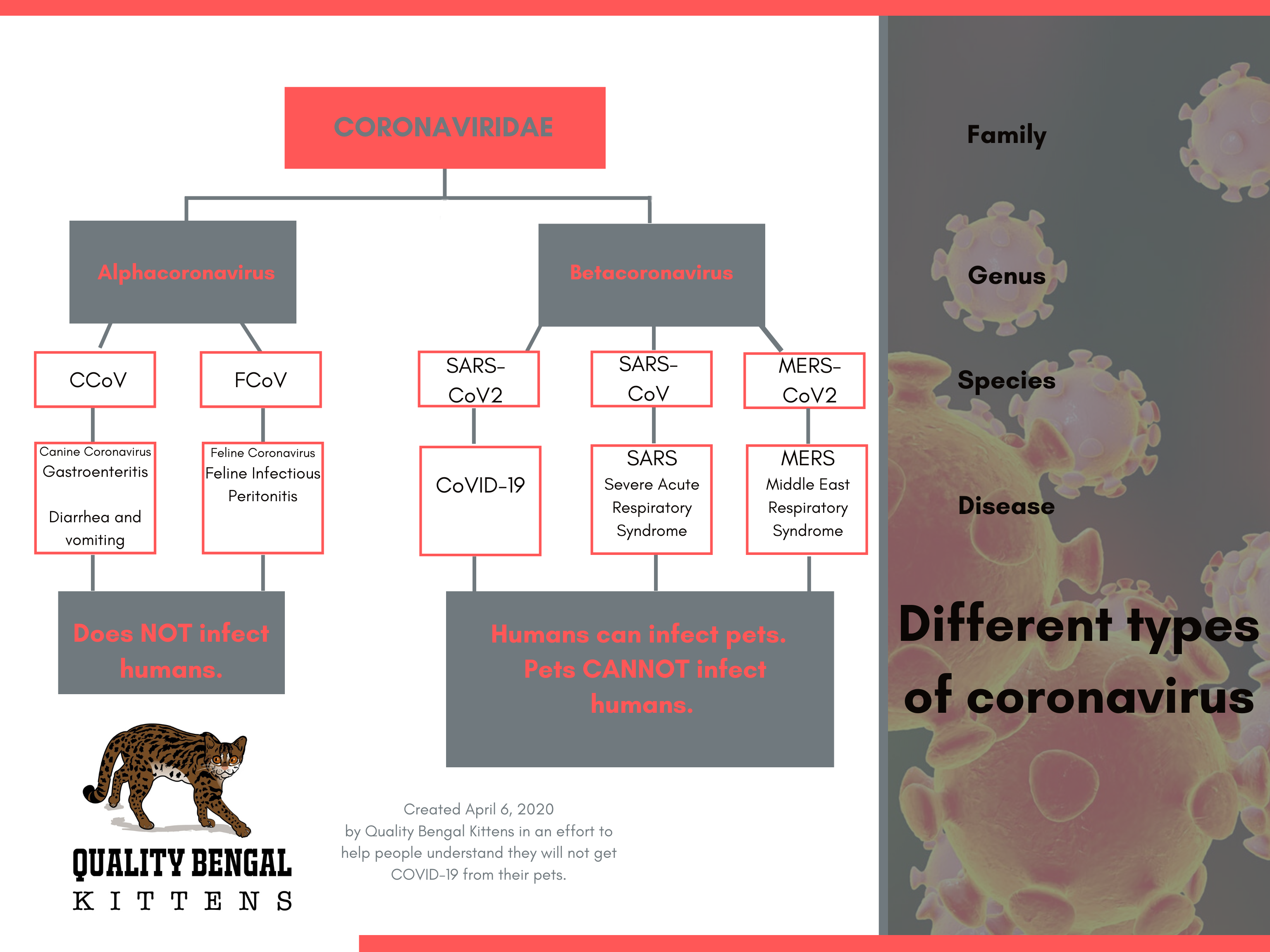 The COVID-19 Pandemic has thrust us into an unknown world.  We do not know what to expect; we cannot predict the future, and we do not know what sources of information to trust.

When it comes to COVID-19 and the safety of our pets, many pet owners are on edge.  I experienced the rush of panic when California's first positive COVID-19 case was a resident in the town where I teach at a high school of over 2,200 students.  Since schools are hubs of transmission, my first thought of panic was for my cats.  Some may see that as insensitive due to the layers of people I could have thought about before thinking about my cats, but fellow cat lovers know a different type of coronavirus has been a death sentence for cats up until about two years ago. Hence, the word coronavirus can be a scary one for cat lovers.

The reality is that coronaviruses are not that simple. Still, I am less scared for my cats now than I was the day the first Californian tested positive - even though, as of this writing, both a Bronx Zoo Tiger and a few domestic cats who lived with COVID-19 positive people are infected with COVID-19.  Regardless of these occurrences, there is no need to panic about the health of our cats.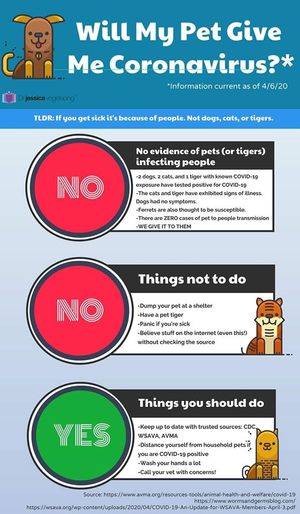 Before discussing COVID-19, lets first understand Feline Coronavirus or FCoV. "Feline Coronavirus (FCoV) is a common viral infection in cats. It generally causes asymptomatic infection but can cause mild diarrhea" ("Feline Coronavirus"). We have to keep in mind that the common cold people deal with each winter is also a coronavirus ("Common Human Coronaviruses").  As many people contract a common cold as there are cats who contract Feline Coronavirus.  The more people we are exposed to, the more likely we are to pick up a cold over the cold season.   For cats, "it is estimated that 25–40% of household pet cats have been infected with FCoV, but the infection rate increases to 80 – 100 percent for cats kept in multi-cat households" ("Feline Infectious"). In most cases, Feline Coronavirus is not treated. In fact, in most cases, the owner of a cat with Feline Coronavirus doesn't even know the cat has it.

In approximately 1% of cats, Feline Coronavirus mutates - as coronaviruses are known to do - and it becomes Feline Infectious Peritonitis, otherwise known as FIP. Up until the summer of 2018, FIP has been a death sentence for cats. There was no treatment. That changed in 2018 when Dr. Niels Pedersen discovered a medicine that has since cured 90% of the cats that received the treatment (Murphy). 

It is essential to understand that Feline Cornovirus is NOT the same as COVID-19. When reading an article that claims that an animal tested positive for coronavirus, that statement is meaningless due to the widespread nature of species-specific coronaviruses that are harmless to humans, such as Feline Coronavirus. What you need to look for is a statement specifically regarding COVID-19 or CoV-2. That being said, there are at least two cats, two dogs, and a Tiger who have tested positive for COVID-19. Testing for animals has been done "in a veterinary school laboratory and is not the same test as is used for people" (Martinez). The positive animals tested were in the care of a positive person and contracted COVID-19 from a human, so human to cat transmission is likely.  An early - and thus unreviewed - study on cats from Wuhan, China indicates that human to cat transmission of COVID-19 does happen.  102 cats from Wuhan were tested; 15 tested positive for COVID-19, and of those 15, "11 had SARS-CoV-2 neutralizing antibodies," meaning they had developed antibodies against the virus (Zhang).  Furthermore, the study found "no serological cross-reactivity was detected between the SARS-CoV-2 and type I or II feline infectious peritonitis virus. COVID-19 or SARS-CoV-2 did not mutate into FIP" (Zhang). 
According to Scott Weese writing for Canada's Center for Public Health and Zoonoses, we have the following takeaways from this initial study:
"antibodies against SARS-CoV-2 were found using an ELISA test in 15 (14.7%) of samples. Eleven of those were also positive on a second type of antibody test (virus neutralization test). 
Three of the positive cats belonged to owners known to have had COVID-19, and they had the highest antibody levels. Six were stray cats, and 6 were sampled at veterinary clinics but had no known contact with an infected owner. 
None of the cats had positive PCR results, meaning there was no evidence that the virus was still present. 
The limited knowledge of the cats' contact with infected people limits the interpretation of the results, but that's a pretty high rate of seropositivity, especially among a group of cats that didn't mainly consist of animals known to have been exposed to infected people."
Although cats are susceptible to COVID-19, we should not be worried about our cats. Neither the Bronx Zoo Tiger's "Infection nor early scientific reports from China of infections among domestic cats should make cat owners fear for their pets, or fear that the cats may pass the virus to humans. 'None of them actually ever acted terribly sick,' Dr. Calle said on Monday of the zoo's infected cats" (Gorman).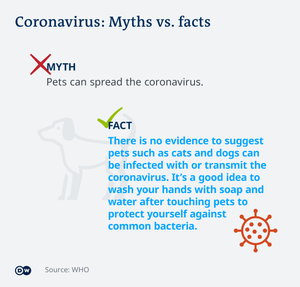 What do we do with this information? 

It is quite simple.  We treat our pets as we would treat human members of the family. Practice social distancing with your pets by keeping them away from other people. "Anyone sick with COVID-19 should restrict contact with animals, out of an abundance of caution including pets, during their illness, just as they would with other people. . .  If a sick person must care for a pet or be around animals, they should wash their hands before and after the interaction" (USDA).  If your cat or dog has not been exposed to a positive person, then it does not have COVID-19.  If you become positive and your cats or dogs have respiratory symptoms, you may contact your vet and let your vet know your pet has been exposed to a positive person.  Your vet will, in turn, contact their state animal health officials, who will then determine if samples should be taken from your pet for testing.  The reality is that compared to the vast number of COVID-19 positive people in this world combined with the ease of transfer of COVID-19 if cats are catching COVID-19, they are dealing with it much better than we are.  Most may be asymptomatic as we have not seen a worldwide increase in sick cats.  

Can you get COVID-19 from your cat?
No, according to the USDA, "at this time, there is no evidence to suggest that any animals, including pets or livestock, can spread COVID-19 infection to people." If your pet is sick with it, your pet got it from you or another person.

Works Cited
"Common Human Coronaviruses." Centers for Disease Control and Prevention, Centers for Disease Control and Prevention, 13 Feb. 2020,
           www.cdc.gov

"Feline Coronavirus (FCoV) RT-PCR." Cornell University College of Veterinary Medicine, Cornell University, 10 Feb. 2020, www.vet.cornell.edu.
"Feline Infectious Peritonitis (FIP)." International Cat Care, 30 Mar. 2020, icatcare.org
Gorman, James. "A Tiger Is Slightly Sick With the Coronavirus. Your Cats Are Probably OK." The New York Times, The New York Times, 6 Apr.
           2020,  www.nytimes.com
Martinez, Peter. "Tiger Tests Positive for COVID-19 at New York City Zoo, First Case of Its Kind in U.S." CBS News, CBS Interactive, 6 Apr. 2020, www.cbsnews.com
Murphy, B.G., et al. "The Nucleoside Analog GS-441524 Strongly Inhibits Feline Infectious Peritonitis (FIP) Virus in Tissue Culture and Experimental
           Cat Infection Studies." Veterinary Microbiology, Science Direct, 22 Apr. 2018, www.sciencedirect.com
"USDA Statement on the Confirmation of COVID-19 in a Tiger in New York." USDA APHIS | USDA Statement on the Confirmation of COVID-19 in a
           Tiger in New York, United States Department of Agriculture, 6 Apr. 2020, www.aphis.usda.gov
Weese, Scott. "SARS-CoV-2 in Cats: Wuhan, China." Worms & Germs Blog, The Centre for Public Health and Zoonoses, 3 Apr. 2020,     
          www.wormsandgermsblog.com
Zhang, Qiang, et al. "SARS-CoV-2 Neutralizing Serum Antibodies in Cats: a Serological Investigation." BioRxiv, Cold Spring Harbor Laboratory, 1 Jan. 2020, www.biorxiv.org