Two Bengal Cat Breeders Joined Together as One
Quality Bengal Kittens combines Solana Ranch Bengals and Wildernesswell Bengals. Bengal cats joined our lives together from opposite ends of the world. Driven by our shared passion, we work twice as hard to bring the very best Bengal kittens for sale to Northern California since 1999.
It all started with a seemingly simple question on a Facebook discussion board.  "Does anyone feed whole prey, and if so, does anyone raise their own?"
Apparently, the answer is not so simple.  Publicly the responses ranged from "Ewww" to "How could you do that?"  There was no meaningful information offered until I received a PM from Jon.  Jon lived on a farm in Scotland and raised a sizable portion of his cats' food.  I was able to ask Jon a few more detailed questions, mainly about dispatching, and decided that part of the process was not something I could do.  Thus, the conversations tailed off.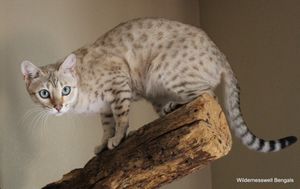 But fate was determined to try again.  Some time later, I had a particular litter of kittens on the way that was Jon's match made in heaven.  Jon had his eyes on my white bellied girl Maisie Dobbs, and he had also had his eyes on WinsomeBG Head On of Sunshine.  When he got word that they had bred, he got back in touch in search of a kitten.  I didn't think chances were high of Jon getting his kitten - other inquires on this upcoming litter had already come in.  Jon was fifth in line.  But Maisie knew there was more in store than a kitten sale, and she defied the odds to produce a litter of all snows.  Much to the disappointment of the four in front of Jon who all wanted browns, he ended up with second pick of the litter - after me, of course - and Solana Ranch Swooned by the Swallows of Wildernesswell can be credited with bringing us together.
Jon and I were both in different places in our life paths from the first time we chatted about whole prey.  As we began to discuss the details of the litter of Snowflakes, a genuine friendship formed and an attraction grew.  But we lived on opposite sides of the world - Jon in Scotland and I in California; a relationship wasn't exactly realistic.  Besides those people you meet online are never who they make themselves out to be, right?
Wrong.  Upon meeting in person, the chemistry, the friendship, the honesty, the passion, the love were all still there.  From the very first hug, there was an instant feeling of belonging, of comfort - the once in a lifetime feeling that can only be found in the arms of your soulmate.
And so, here we are now, two Bengal cat fanatics who now share our cats, our lives, our passion.  Jon joined me here in California where, to come full circle, he now raises whole prey for all of our cats, so we can give them the very best nutrition possible.
Bengal Cat Information from Experienced Bengal Cat Breeders