The Quality Bengal Kittens Clan experienced its best show season to date - taking the top spots in all three Bengal categories in the Mid Pacific Region.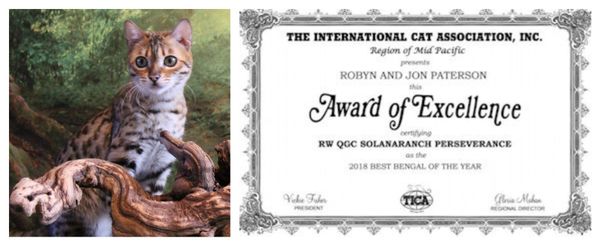 Vera earned the spot of Best Bengal.  She started strong by making Double Grand Champion in her first adult show.  Many thanks go out to my colleague Dan who covered a last block Friday class, so I could get her to her last show on time in hopes for her to earn the points for this title.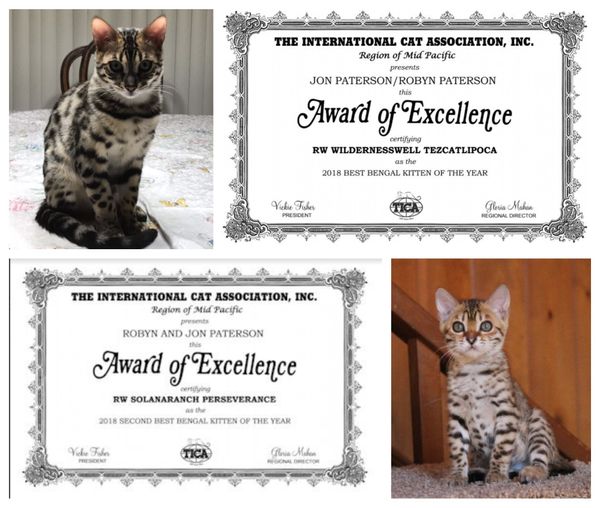 Jon and I both have a representative in the kitten category with Tez beating Vera out for Best Bengal Kitten of the year, and Vera holding on to the Second Best Bengal Kitten spot. We have Marlaina to thank for lots of help with Tez. Marlaina and Tez ended up best buddies as Marlaina often showed him for us.  We were really excited to see Tez do so well in the show hall.  As a cat with two copies of the Leopard cat agouti, his coat has an overall darkish cast to it which can make it more difficult for him to compete and against more vibrantly colored cats.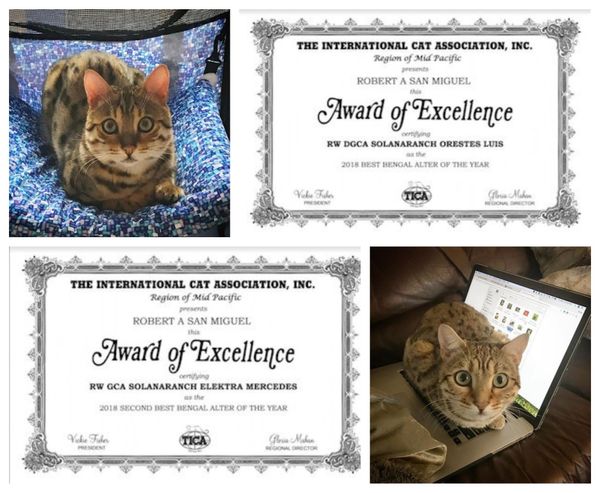 For the first time ever, we have Quality Bengal Kittens representation in the Bengal Alter category.  Upon registering their cats, Bobby and Brice decided they wanted to show.  Typically, you want to start cats showing as kittens to get them used to the show hall environment, but since Bobby and Brice hadn't planned on showing this step was skipped.  We are so grateful for their patience as they worked through the first few shows. They ended up with both the Best and Second Best Bengal Alters in the Mid Pacific Region.  Thank you, Bobby and Brice!

Overall, Solana Ranch Perseverance placed Twelfth Best Cat of all breeds.  Wildernesswell Tezcatlipoca placed seventeenth Best Kitten of all breeds.  Solana Ranch Perseverance placed twenty-fourth Best Kitten of all Breeds.  Solana Ranch Orestes Luis placed fifteenth Best Alter of all breeds.  Solana Ranch Elektra Mercedes placed seventeenth Best Alter of all breeds. 

We have a few more honorable mentions to our season.  Solana Ranch Persistence, AKA Stan, who didn't get to many TICA shows and who was always competing against his sister Vera managed to make it to be the Mid Pacific's Third Best Brown Spotted Bengal and 23rd Best Cat of all breeds. In addition, Solana Ranch Patience, who went to shows as moral support for her children - real and adopted, ended up fourteenth Best Shorthair cat in the Mid Pacific Region. Furthermore, Solana Ranch Uncia, who only attended one show this season in order to get her Supreme title, earned Best Seal Sepia Spotted Bengal for the Mid Pacific.  Also, while not earning a specialty award, Solana Ranch Unalienable Right - AKA Una - earned 22nd Best Shorthair Cat - which makes this the third year in a row that she has earned a Regional win.

We want to express our sincere gratitude to the TICA clubs of the Mid Pacific Region who hold these wonderful cat shows for us to attend.  We are not travelers.  We stick to our region, so without Mid Pacific shows, we could not earn these awards.  Equally so, we are grateful to the judges who appreciate our vision for the Bengal breed and recognized our cats in their finals.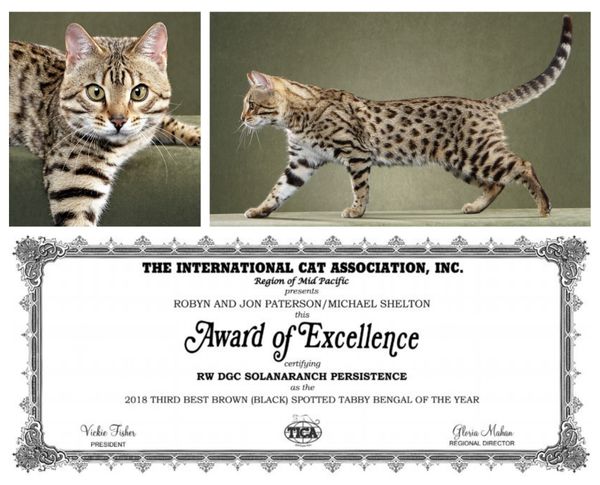 Photo credit of Solana Ranch Persistence goes to Helmi Flick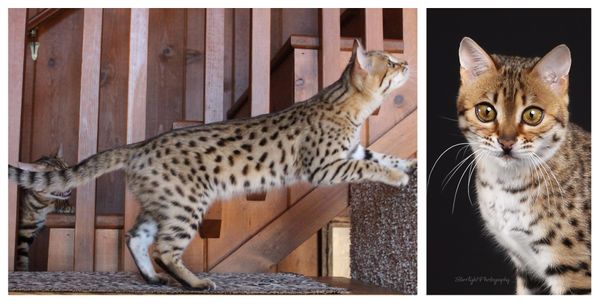 Solana Ranch Patience - Facial photo credit goes to Starrlight Photo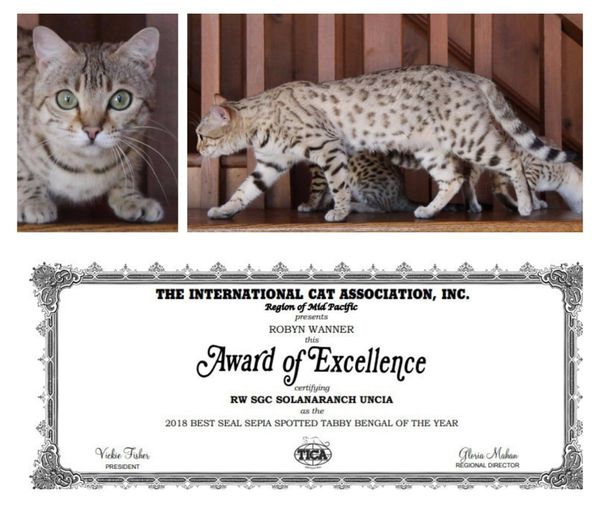 Solana Ranch Unalienable Right - AKA Una
And finally, we don't think it would be right to not give thanks to Patman (Solana Ranch What the Deuce) who made most of this happen.  Patman is the father of Patience, Orestes, and Tez, the grandfather of Vera and Stan, and the brother of Una.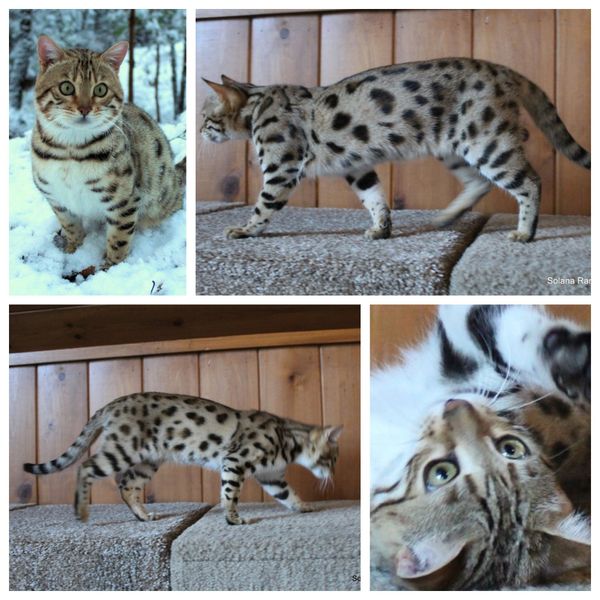 Solana Ranch what the Deuce - AKA Patman