Leopard Cats Behind the SolanaRanch and Wildernesswell Early Generation Bengals
At Quality Bengal Kittens, we value quality control and genetic diversity. These two core values have shaped our selection of cats. Our breeding model has primarily been to start with early generation cats from all over the world and work those lines down to SBT. Most of our cats will be within eight generations of a leopard cat, and often the female line will trace back through our cattery to a foundation cat. By controlling the quality of the cats from the leopard cat to the Bengal, we ultimately have more control over the health, temperament, and appearance of the SBT Bengals. This dedication to developing Bengal lines from genetically distinct early generation cats separates us from other breeding programs. By selecting early generation cats from leopard cats that originate in different parts of the world, we are starting with a genetically diverse population of cats. Working with a line of cats for many generations provides us with more in-depth knowledge that allows us to better match people with cats that fit their needs and make better decisions regarding their health.  
Many of the pictures of leopard cats have circulated on the internet for years.  When a picture originated from another site, that website is linked to the picture. Other pictures were given to us.
Taro of Bundas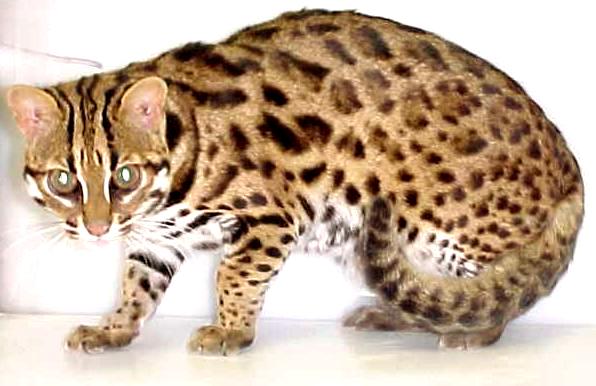 Robyn's first early-generation cat, Awagati Independence, was down from Taro of Bundas.  Taro is likely the most influential leopard cat in developing Robyn's eye because she was first loved and surrounded by his descendants. Taro-line cats can be identifiable by their rather narrow nose bridge and large nocturnal eyes. The Taro cats tend to be lovers of water, and keeping a water bowl around them is not always easy as they prefer to play with it more than drink it. Taro is thought to be a subspecies hybrid (based on the original subspecies). He is not connected to the zoo populations of leopard cats that made the most significant contribution to Bengal genetics, which means his contribution to genetic diversity is valuable.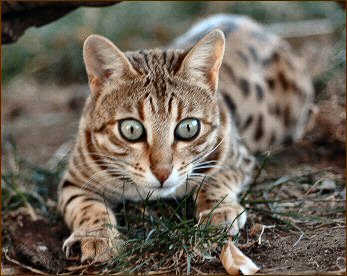 Awagati Independence was Robyn's first early-generation cat  Inde is a cornerstone of SolanaRanch; over half of the SolanaRanch cats have her in their pedigree. Inde has always been a model of comparison that every cat is subjected to. Her body is pictured in our diagram of what a Bengal body should look like. Her eyes took the breath away from everyone who saw them and are the measuring stick we stack every set of Bengal eyes against. Her likeness to Taro at the second generation is one rarely seen on modern second-generation cats.  Inde was born in 2003 and passed in 2010 due to kidney failure, most likely caused by long-term, low-grade dehydration associated with kibble diets.  Inde is the reason Robyn switched to raw feeding.  She tested negative for HCM three times, with the last test being in 2010 before her passing. 
Juara of Eraser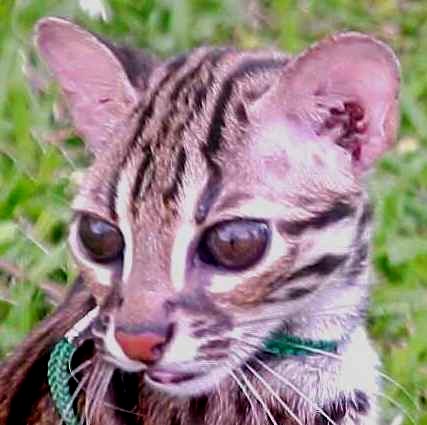 Jon's first early-generation cat came from Juara of Eraser.  Juara's line was difficult to bring to SBT. We suspect this is because he is the (formerly) tingia subspecies. The tingia subspecies has been reclassified as part of the bengalensis subspecies, but the phenotype is much finer than the bengalensis populations from further north that were more frequently used in the Bengal breed. Juara's head was even smaller and more sculpted than Taro's.
StarwindsUK Kadou was Jon's first early-generation cat.  Kadou did not have her first litter of kittens until she was seven years old.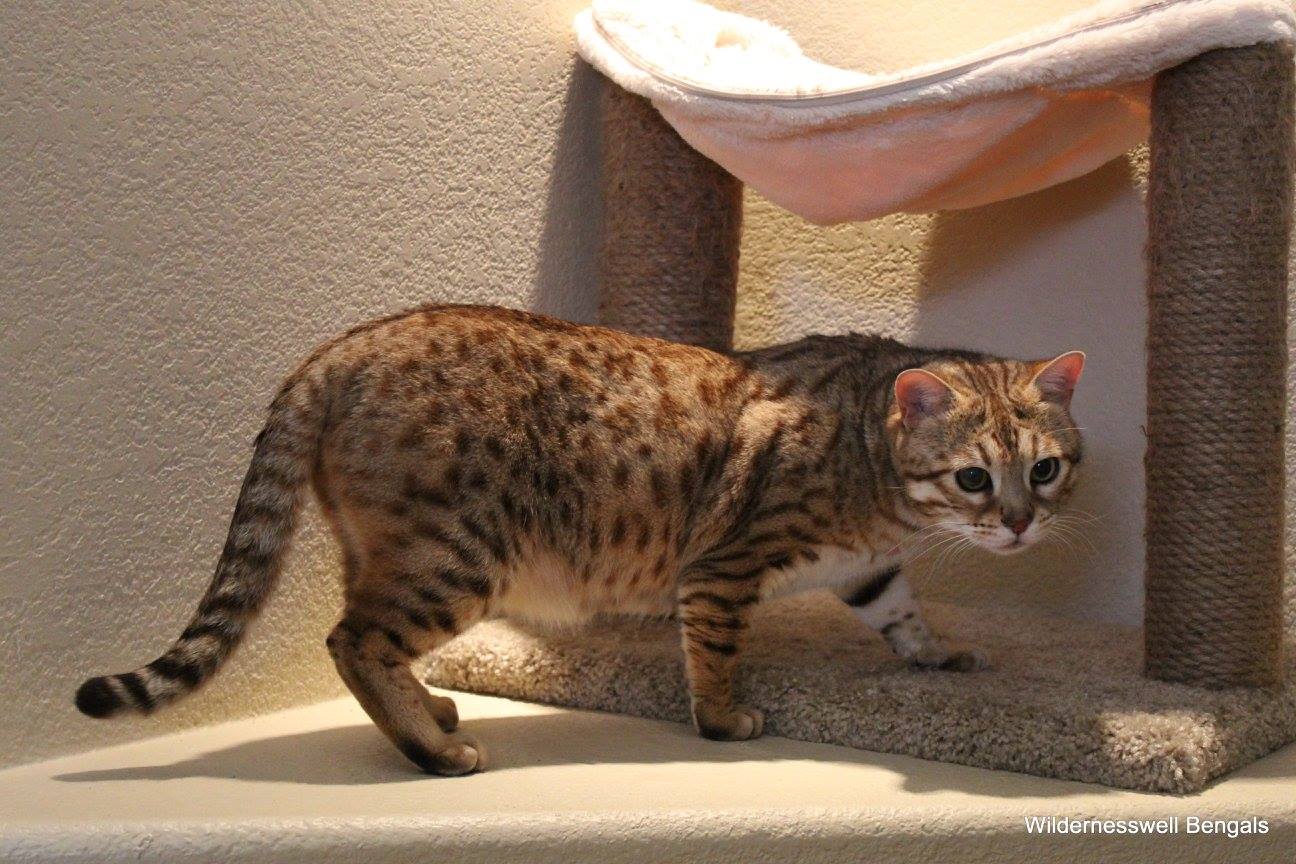 Most breeders would have given up by then. It is a good thing Jon did not give up, as we believe he is the only breeder to have brought Juara of Eraser to SBT. Once Kadou started having kittens, she faithfully produced a yearly litter for five years.  Without much hope, Jon kept a fourth-generation male, Wildernesswell Frisky Filbert, who ended up being fertile. Through Frisky Fil, the Juara line expanded into other breeding programs and made its impact on the Bengal cat. Kadou was born in 2008 and remains with us at the time of publication, 2023. 
Elias of Callista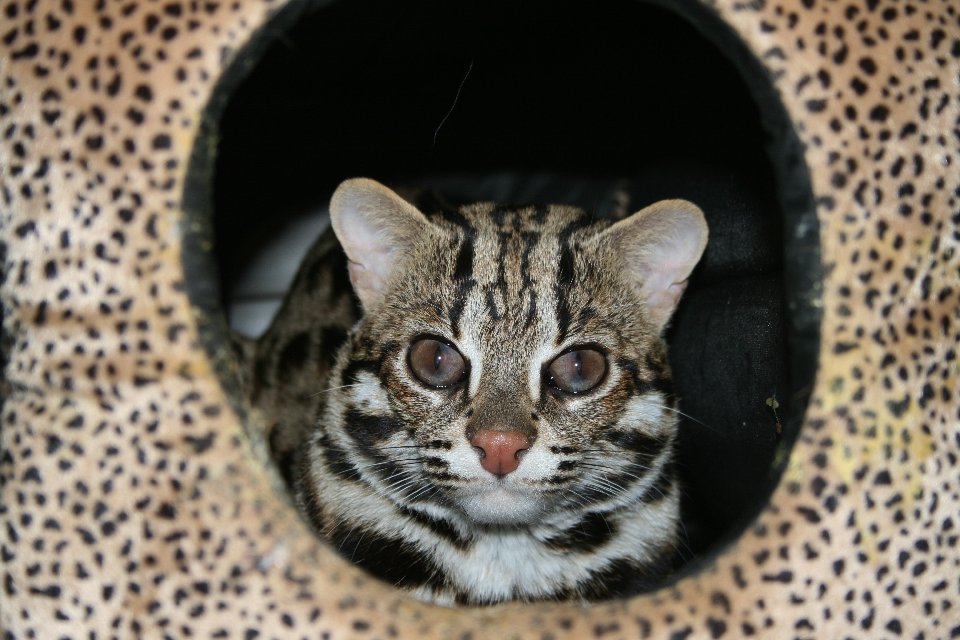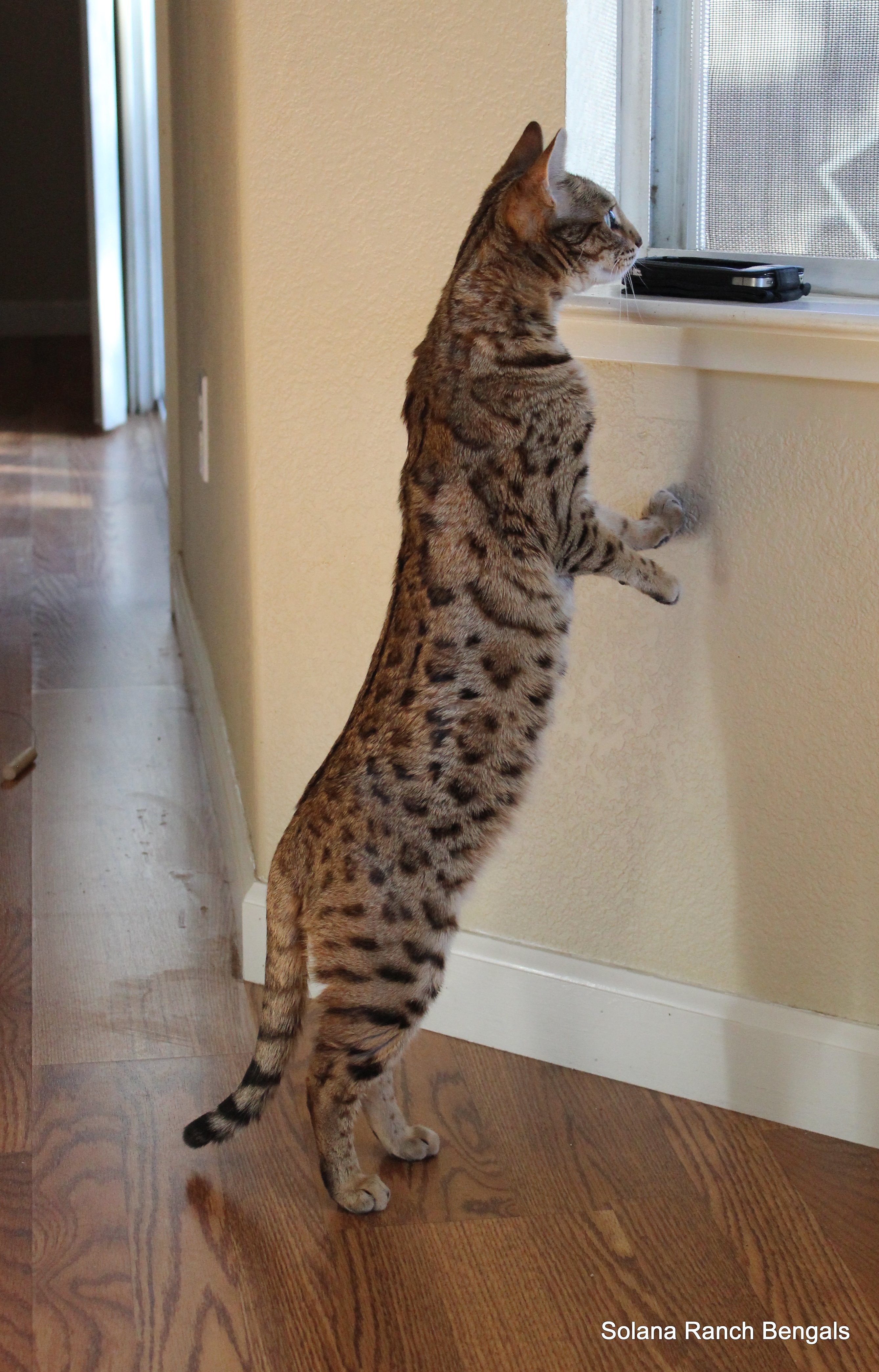 Elias of Callista is likely our breeding program's next most common leopard cat. He is, comparatively, a more modern leopard cat than Taro or Juara. Elias' line has made it to SBT through a small handful of programs. The SBT Bengals from his line tend to hold a strong wild look. 
BeauxMondes Innocent Bystander, Ibby, is an influential early-generation cat in Robyn's program. When Robyn had human kids, the SolanaRanch program was reduced to a few cats. Ibby was one of the first cats Robyn began to rebuild her program with once the kids were toddlers. Ibby is the mother of SolanaRanch Maisie Dobbs, Robyn's first white-bellied cat. Ibby's line has been easy to breed and very fertile. Ibby's leopard cat-like head structure has been a dominant trait in the line and shows up frequently in her descendants. Another trait that we see come down the line is a very sharp mind. Ibby was a very intelligent cat with excellent problem-solving abilities. Many of her SBt Bengal descendants have her keen mind, making training fun. Ibby was tested regularly for HCM while she was breeding and last tested HCM negative upon her retirement at eight years old. 
Safarii of AWildDream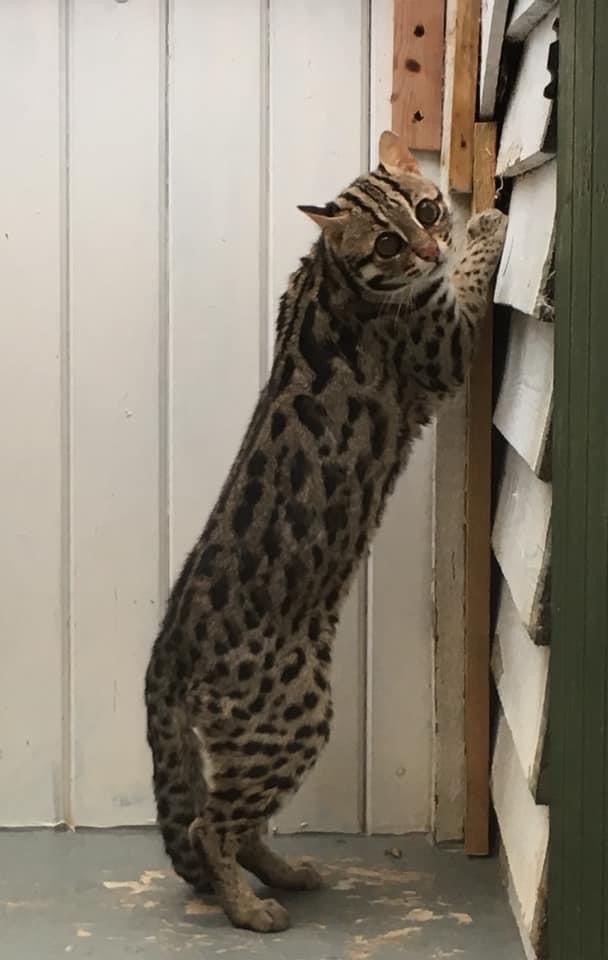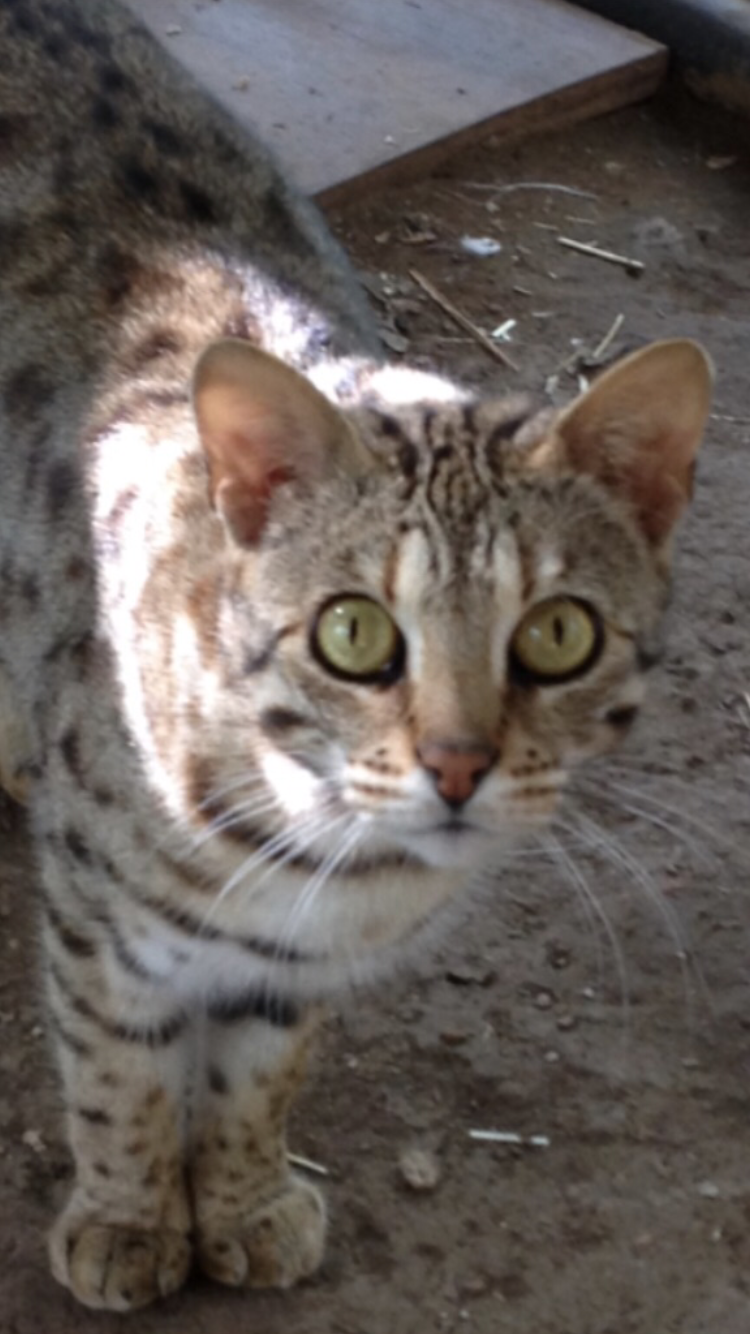 Safarii of AWildDream, lovingly known as Bertie, is a UK-born leopard cat. His lineage is not closely connected to the main population of leopard cats in the US. Bertie has the sweetest expression with his very rounded facial contours, which pass strongly to his offspring. 
Purebliss Deltic Purrs (Deli) is a first-generation daughter that came to us from Tim and Jacky Bliss. We were so grateful to have the opportunity to add this amazing F1 female to our program because Bertie's lineage is not represented through any other line in the US. Deli's line has bred all the way to SBT through Jon's cats and reached the fifth generation in 2022. A strong trait to pass in this lineage is very rounded ears with a strong expression of the ocelli pattern on the back. Deli also has a very substantial body. This came through in her daughter, Wildernesswell Khushee, and the later generations, with her male descendants being some of our largest cats. Deli was born in 2012 and is still going strong and looking like a young lady at the time of publication in 2023.
Matrix of Utaneko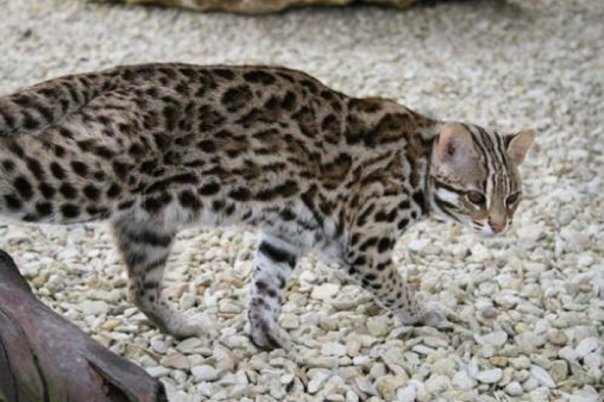 Matrix of Utaneko comes through our program in two lines. He is the sire of Safarii of AWildDream, as well as the grandfather of Malfulah Benedita of Wildernesswell. Matrix produced some wonderful F1 daughters and several stunning pure leopard cat litters.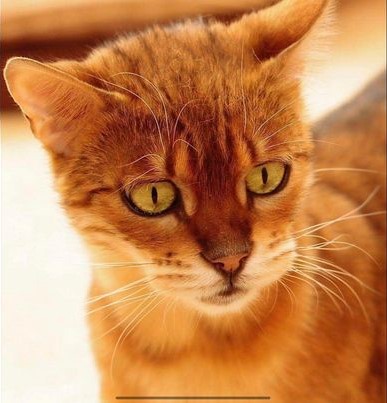 Malfulah Benedita of Wildernesswell came to Jon's program in early 2014. She had produced several litters in her previous home before traveling to Scotland. The original plan was for Benedita to travel to California; however, she bonded strongly with Jamie, who took care of the cats while Jon moved to California. It was decided that it would be best for Benedita to stay in Scotland permanently rather than stress her with another move. Benedita bred willingly in Scotland and produced several male kittens between 2014 and 2018. She had just one daughter - a beautiful marble who joined Supernova Bengals. The hope was always that she would have another daughter. Sadly, that wasn't to be, but we were very lucky to be able to bring a granddaughter over to California, thanks to Kevin and Linda at Supernova. Benedita still lives with Jamie in Scotland (2023) and scanned negative for HCM at ten years old in 2020. 
  Rumor Has It of Unique Prints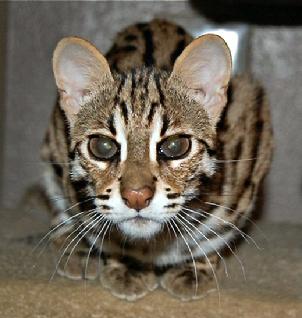 Rumor Has it of Unique Prints was an extremely fertile leopard cat. Many F1s went from him into Bengal breeding programs throughout the US. We hope to see more of this lineage reaching SBT through different F1s.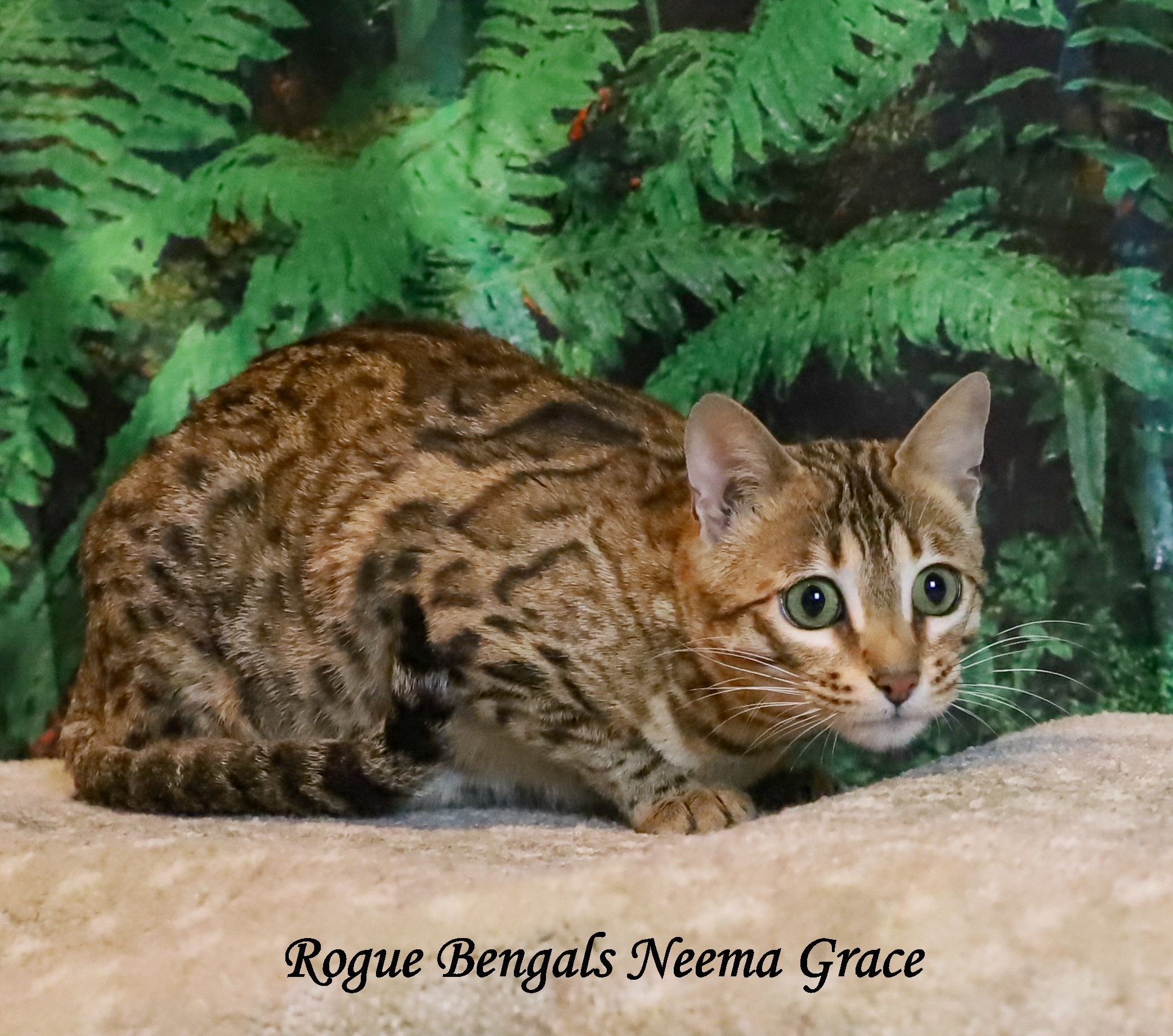 RogueBengals Neema Grace came to us from Erica Callahan at Rogue Bengals. We have found our Rumor-line cats to be appropriately more talkative, as the name Rumor Has It would suggest. This talkative trait is expressed both vocally and with their thick, muscular tails, which twitch and wave constantly as a way to express their every thought. Robyn bred our first Rumor-line SBT Bengal in 2022, and we look forward to seeing more of their beautiful bodies and thick tails in the future SBTs from this line.  Neema was born in 2017 and scanned negative for HCM in 2021. She will be scanned again in 2023. 
Ottoman of Gayzette and Sarez Apollo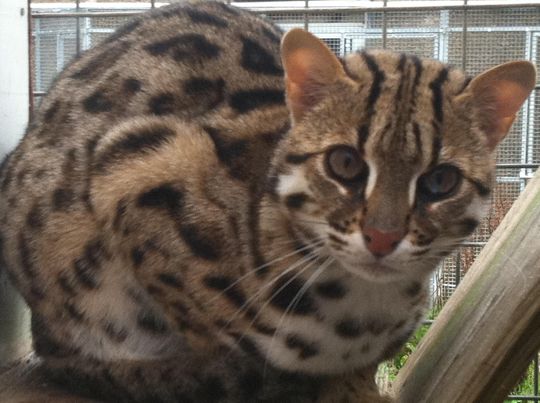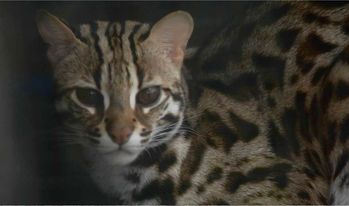 Ottoman of Gayzette (pictured left) and Sarez Apollo of Gayzette (pictured upper right) are a package deal in our program as they both come in through Gayzette Anatolia (lower right), our 75% F1. Anatolia is the daughter of Ottoman of Gayzette and the maternal granddaughter of Sarez Apollo. Jon has long admired Pauline and Frank's breeding program.  When visiting them in their home and cattery, Jon admired the happiness and friendliness of all the cats - most of whom were early-generation cats.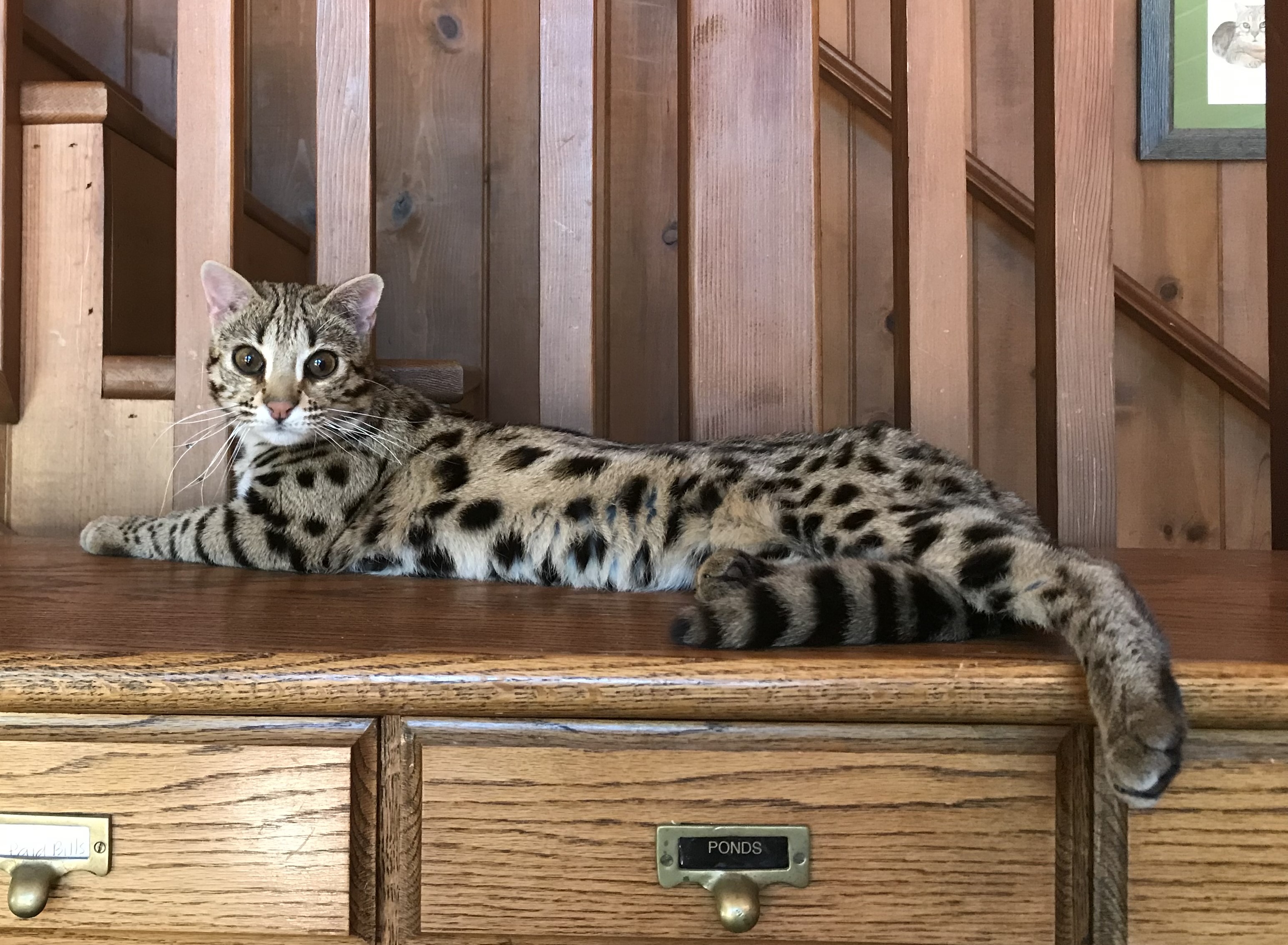 When the time was right, we had always planned on getting an F1 from Gayzette.  We were worried we had missed our chance as we were not ready to add a new F1 at our previous home, and Ottoman did not produce any kittens after we moved to our current home.  One miraculous day, Pauline wrote Jon.  A 75% F1 had been returned, did we want her?  Yes! Yes, we did. Anatolia made the long journey from Scotland to California, and despite being a mature adult in a strange place, she came out of the crate ready to play.  She is the most people-friendly F1 we have ever met. Anatolia does everything right; her first litter was two beautiful girls. The descent to SBT has begun, and we cannot wait to see what we have once we get there. 
Wild Merlin Marinero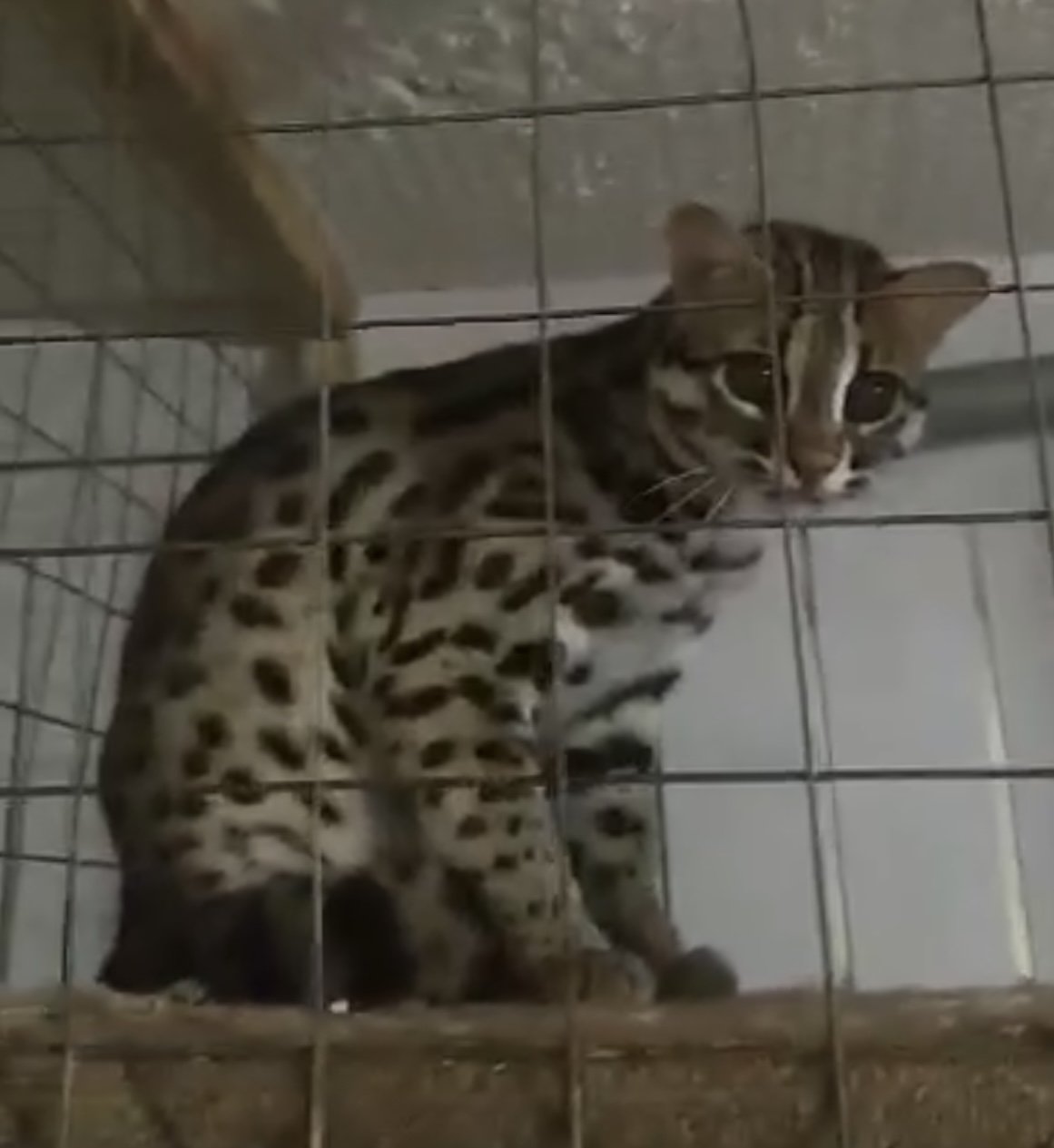 Wild Merlin Marinero is the only Russian leopard cat represented in our program. His lineage is quite new to the Bengal breed, having just been born in 2019.
It will be several years before his line reaches SBT. So far, his offspring appear to be confident and self-assured cats which bodes well for the line. 
Mistero D'Coda Venera (Shein) came to us came from Nina Agashina. Shein is from a Wild Merlin Marinero and a female Burmese, V.Robless Bajka. We had long wondered what it would be like to start a line from scratch.  The early generation cats of the Bengal breed's beginning were beautiful, in some cases even more beautiful than those from modern Bengals.  When Jon saw this litter of leopard cat by Burmese crosses, he had to have one. Shein is an absolute treasure.  If you look beyond her servaline pattern, you see almost no influence of the Burmese.  Her morphology is all leopard cat. Imagine the genetic diversity she adds.  Being from a genetically distinct leopard cat and a Burmese, she is not related to Bengals at all.  Within Shein's first litter was a little baby female that looked just like Shein; the descent to SBT Bengal begins with Galaxy because she is the first generation that actually has Bengal in her.