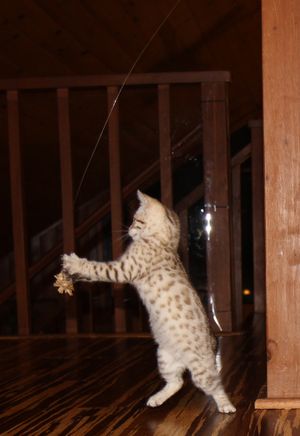 November 16, 2019
by Robyn Paterson
Toys here.  Toys there. Toys, toys, everywhere.  When you look at what is online and available in stores, it can be perplexing as to which toys to buy. Which toys will be used? Which toys will be ignored?  We have a houseful of toy testers, so we have a pretty good idea of which toys are a hit.  In 2019, these toys didn't lose their luster.

Independent-Play Toys
There are a few hits in this category, but three are super standouts.  First, the Cat Dancer.  This toy is in use more hours of the day than it is not in use in our multicat household.  I do not think we will ever be without one from this point forward. It uses Command Strips to adhere the holder to a wall, and the toy is rolled up cardboard on a wire that bounces freely when touched.  So simple, yet absolutely, undoubtedly, one of the best independent play toys.  One cat will play for several minutes, perhaps walk off, then return.  The rolled card ends don't last forever, so we suggest getting some refills to have on hand.  At the rate our cats play with this toy, we refill it every 2-3 weeks. 


Another incredible independent play toy is the simple spring toys.  Our cats cannot resist the springs.  One touch and they ping all over the house with the cat following behind.  Springs are great for an early morning play.  For people who work outside the home regularly, you have to fit some cat play into your morning routine.  Bounce a spring or two in the kitchen as you make coffee or breakfast. That will get your cat going, so if you only have ten minutes for interactive play, it extends the playtime a bit with some independent play.  Buy more than you think you'll need of both the large springs and the small springs as they magically disappear.  Replenish your spring supply with a bi-monthly sweep of the under-the-refrigerator black hole.
Finally, we would struggle to meet all of our cats' energy needs without a cat wheel.  We have multiple wheels in our house, and they roll all night long.  Take a look at the video at the bottom of the article and see how our cats switch on and off and share the wheel.  This is what nightlife at our house looks like! We have never had to teach our cats how to use the wheel, but some of that may be because they teach each other.  We never hear from our extended Quality Bengal Kitten family that their cats do not use the wheel.  For a high-energy cat, the wheel may be the difference between a happy cat and a frustrated cat.  For further insight on why we believe the Ferris Cat Wheel is the best cat wheel to purchase, please read our article on Cat Wheels.

Interactive-Play Toys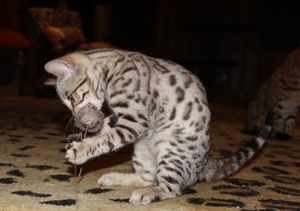 Nothing beats playing with a wand toy.  No home with high-energy cats should go a day without one.  The wand itself doesn't matter to the cat - as long as it works.  I prefer the lightweight and easy storability of retractable wands.  Jon prefers the durability of Da Bird wands.  The feathers that come with either wand are always a hit, but feathers don't last through too many catches.  We always have at least one wand in the house with these durable mice as the attachment.  Made from deer hide, the mice are natural and not harmful.  Plus, they last and last and last.  It is crucial that at the end of your play session, you let your cat catch its "prey" - AKA the toy.  When playing with feathers, we allow our cats "catch" these large mice, a kicker, or a raccoon tail by substituting one of those for the feather attachment at the end of the play, but when you have these robust mice on your wand toy, the cat can have a go with it at the end of your play session.

Another win-win interactive toy is a laser pointer.  Using a laser pointer allows you to multitask and perhaps watch a little TV or handle a phone call while keeping the cats engaged in aerobic activity.  Running cats up and down tall cat trees, making them jump over obstacles, or running them on your cat wheel are all great ways to wear your cat out.  Some cats can never get enough of the laser pointer and pant so hard that you think they will stop, but no, stopping is not an option with this toy. The chase for the red dot must go on.  Please help your cat out by giving him a toy to "catch" at the end of the laser run.

Toys that Work the Mind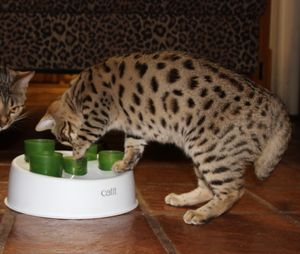 Bengals are intelligent cats, so they always enjoy a good puzzle.  We have several food puzzles for our cats, but two are standouts.  The cats all love The Digger.  Once a cat succeeds once at The Digger, it does not ever forget how to obtain the treat, but the game of it is still great fun.  Some cats want to dig for treats even when they are full because digging is fun.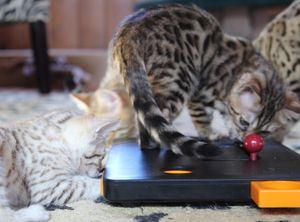 In contrast, a mind puzzle can trick a cat again if you put it away for a while.  Cats do eventually forget how the knobs and pullies work, and it becomes new again, but it never takes too long to figure out. Our cats enjoy mind games with healthy treats such as freeze-dried minnows.  For cats who have never worked with a puzzle toy before, strong-smelling freeze-dried salmon helps them understand that food is hidden inside.


Not Exactly Toys, but Must-Haves for Every Cat House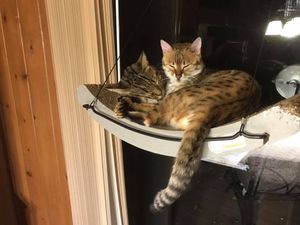 Two items that get used a lot in our house are pole scratchers and window perches.  Even though these aren't toys, they are must-haves for our cats.  A scratching pole must be super sturdy; otherwise, the cats won't enjoy a hard scratching session.  We have six study poles spread around our house because they are an important tool in keeping the peace in a multicat home. Obviously, they give the cats a place to scratch, which not only stretches their bodies and removes dead sheaths from the claws; it also provides a place to mark territory with scent from their paws. Having these poles near the outside walls and in high-traffic rooms of the home gives the cats an appropriate way of saying, "This is my home."  Finally, if you get one with a small flat top, it gives a private piece of real estate in a multicat home.  A small spot that only has room for one cat or one cat and a best friend offers a space to escape when they need some alone time.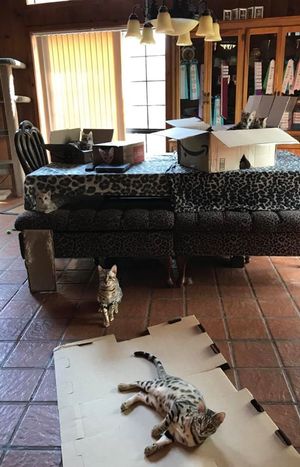 The window perch is another way to give your cat a private spot and an appropriate place to leave its scent through scratching.  Since we hung these window perches, not a day has gone by without them being used.  We strongly encourage the cardboard perches over the fabric ones. The cats love the durability and stability of the cardboard perch.  Our cats use them for sleeping, scratching, and moving around the house.  Because they go on windows, they automatically are in an excellent location for cats.  For one, they will leave their scent on the boundary of their territory. Two, they will often be in the sun - a favorite cat location.  Three, the cats can watch what is going on outside, which stimulates the brain.  When you cohabit with intelligent cats, it is nice to have a few brain exercises for them.  Sticking a bird feeder outside provides an excellent experience for your cat as it will "hunt" the bird from its perch.

Don't Forget the Freebies

With each purchase that arrives at your door, the best of all free cat toys are included - boxes.  If you have kids in the house, give them the boxes, some scissors, and tape, and let the kids construct a cat playground.  Cats love boxes.  No kids, no problem.  Just set the box down; it will be used.  Never let a good box go to waste without giving it its moment as a cat toy first. This is great for young cats who are growing their adult teeth as they love to chew on the edges of the boxes.

None of these items on our list are new, but they are tried and true reliable favorites. Our cats never get tired of the items on this list, so if you are looking for something your cats are certain to play with, these are our cats' top favorites.  We hope your cats appreciate them as much as ours.

Watch this video to see the never-ending cycle of on and off the wheel at night.