With COVID-19 sweeping us into a different world, raw feeders may have found some challenges.  For one, raw feeding can be expensive when you buy it pre-made and pre-balanced.  Secondly, we are encouraged to have a month's supply of food on hand, and unless one has an excess of freezer space, it can be a challenge to have a month's supply of raw food stored away.  We are going to tackle some solutions to these problems.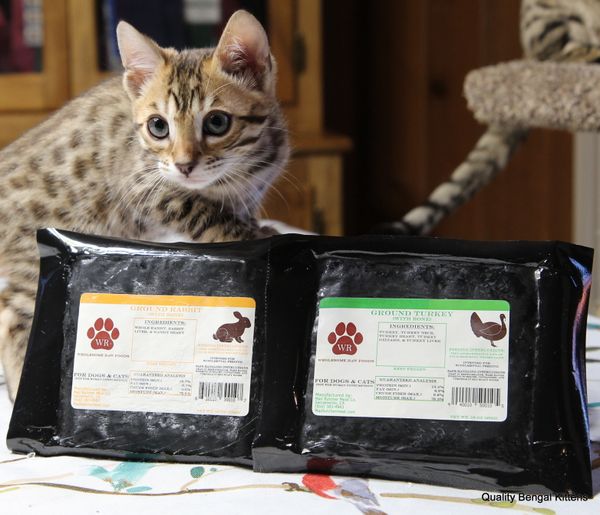 Problem Number One - Accessing affordable raw food
While we recommend Darwin's Natural Raw Food to our kitten buyers, it is not the cheapest food on the market.  We recommend it for its nutritional value; its likeness to our homemade food, and its convenience.  Many people think feeding raw has to be hard, and Darwin's proves that wrong.  But you do pay for that convenience.  We can also recommend some less expensive options.  Two of our recommendations are only going to be suited for our Sacramento and San Francisco Bay Area family members.  Our first recommendation for those needing cost-saving is the Excel K9 Diet Chicken in a Bag.  Yes, I know it says K9 on the heading, but the ingredients list is chicken, chicken bone, and chicken organs.  There are no supplements, and most importantly, there are no vegetables. When looking at raw food for cats, you need to avoid anything with vegetables in the mix.  The four-pound chub of this food is $7.  That is under $2 a pound for pre-made raw chicken.  Sometimes we cannot make our own homemade ground for this price, so this is an excellent buy.  We add the NuVet supplement to this mix before we feed it. We feed the Special Grind Chicken and Duck from Excel Pet Pantry, and add NuVet supplement to this as well before feeding.  The chicken and duck blend is $7.80 for a four-pound chub, so it costs slightly more than straight chicken, but it provides a different protein source. Look around at what Excel Pet Pantry has to offer.  For those who prefer to make your own, they have great prices on different protein sources and different organs from various protein sources.  What is the catch - they deliver to central locations through our the greater Sacramento and San Francisco areas, but only once a month.  You have to know what you want to order for the month or else take a drive out to Sutter Creek during their store hours.  And yes, pet food is an essential business during Shelter In Place.

For those willing to travel to South Sacramento, we recommend the Mad Butcher Meat Company's raw food.  We purchase the least expensive option, "Fortified with Bone" at the 80/10/10 ratio.  This is 80% muscle meat, 10% bone, 10% organ, which is the proper balance for cats.  We add NuVet to it as well.  If you do not want to add any supplement, you may purchase the line of food labeled "Complete," but it does cost more.  Please be sure to avoid their "Bone and Vegetable" line of products.  That is for dogs and should not be fed to cats. The pet food is in the freezer to the right of the door just as you walk into the Mad Butcher Meat Company.  When buying in bulk, please talk to an employee.  They will go to the back for boxes of 36 one-pound packages already boxed up and ready to go. 

Another great buy for those looking to watch their dollars yet still feed raw is whole ground beaver from Simply Rawsome. A two-pound bag of the ground beaver is under $3 per pound.  Beaver is basically a giant rodent, so it is most similar to a cat's ideal meal of rat or mouse at a much better price.  Simply Rawsome does have a shipping fee, so this is not the most economical option, but it is worth mentioning.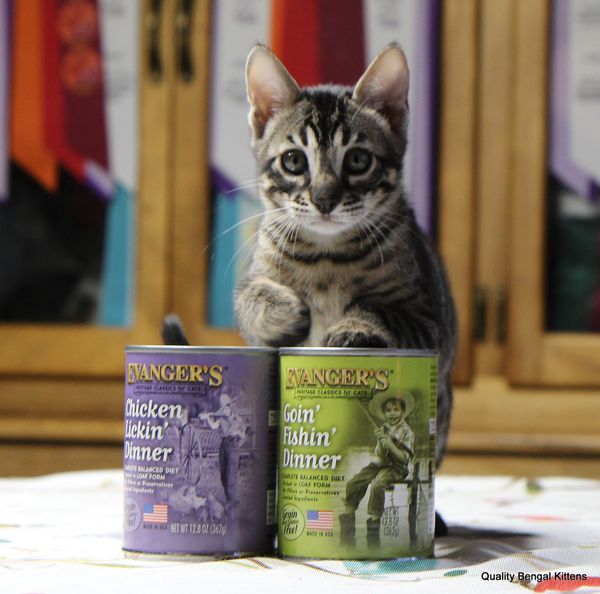 Canned Food Options for Storage and Savings

Unless you are blessed with multiple freezers, it can be hard to store an extra month's worth of raw food.  Furthermore, as joblessness skyrockets during this pandemic, it may not be financially feasible to feed all raw.  Since the COVID-19 Pandemic, we have been looking around at options of canned foods to have on hand.  If quality is your primary concern, not cost, we still stand by our recommendation on our Canned Food and Treats page. While we do not feed those foods, they have limited ingredients and quality ingredients, and that is why they are our recommendation.  However, in uncertain times people must budget carefully.  In that case, if possible, we recommend Evanger's Chicken Lickin', Gone Fishin', and Beef it Up dinners.  This is a mid-range food, not the best, not the worst.  If you buy a case of the 12.8-ounce cans, it is just over $2 a can.  The filler used in this food is Butternut Squash.  While having it in there is not ideal, it isn't too bad as far as fillers go. We have chosen to store cases of this food in our garage in case of an emergency situation that prohibits us from accessing raw food. If you are in the Greater Sacramento region, we recommend that you order this from Incredible Pets.  It is a locally owned and operated family business, so you are helping a local business survive the pandemic.  If you are not in the Greater Sacramento area, you may see if you can find a locally owned pet store doing deliveries and support them.  The food is also available at Chewy.

If you have a Tractor Supply near you, we would also suggest their 4Health Grain-Free Variety Pack. Check for this variety pack specifically.  Other 4Health products have rice in them, and rice should be avoided as it reduces taurine absorption.  

Finally, for the cheapest options out there, we do have a couple of recommendations.  Tractor supply sells a very inexpensive food Paws and Claws Turkey and Giblets Dinner.  A 22-ounce can is $1.39.  Walmart sells the same food under a different name Special Kitty Turkey and Giblets; a 22 ounce can sells for $1.08.  These two canned foods may not be perfect, but they are better than feeding dry food, and they are better than feeding anything with rice, soy, peas, lentils, tapioca, wheat, and barley.  If you need to feed your cat at the lowest possible price during this pandemic, Walmart's Special Kitty Turkey and Giblets is your food.  Do not buy the other Special Kitty foods as they have soy, rice, or other ingredients that are not good for your cat. 



Dry Food Options
Yes, we will give you some dry food options if you feel you need to have dry food in storage.  These options will not be cost-effective.  If you need a cost-cutting food, buy the cost savings canned foods we suggested.  If you must have dry food, or if you like to use dry food as treats in puzzle toys, these are our go-to foods. First, we love Ziwi Peak Lamb and Mackerel.  We use it as a treat to add protein variety.  And we like Vital Essentials line of freeze-dried foods - duck, rabbit, and turkey - which can be reconstituted in warm water.  We have only ever used it as a treat in our food puzzle toys.  If you want to have something that can be stored more efficiently than raw, this is an option.  

Keep in mind that even in a crisis, we do not recommend a quality dry food over a cheap canned food.  Special Kitty Turkey and Giblets is better daily food for your cats than these two top quality dry foods due to their lack of water.  Those who insist upon dry food can try to increase their cat's attraction to water by getting a water fountain. 
Please stay safe and remember to practice social distancing with your cats.  Do not let them roam outside where they could be exposed to COVID-19. Keep them sheltering in place with your family.